Hi reader(s).  (I know there's at least one of you, because you told me so in person… thanks, Vera!)  I'm feeling kind of bad about neglecting you for a whole month; you might accept my excuses but I certainly hope you'll accept my apology.  To make it up to you, I'm going to start trying to add some pictures.
I don't think it makes sense to go over everything that's happened in the last month in one post, so I'll bring you up to date with a few highlights. Three trips out of town – the first two look remarkably like The Travelling Engineer Problem as I made two more trips to Ohio; the third was to Princeton Reunions which was another thing entirely.  There was also the Memorial Day holiday, and learning to be a s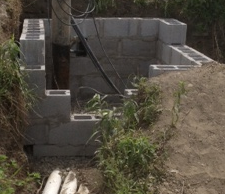 tonemason1.  We determined that we needed a "well house" to protect all of the equipment that goes with the new well that's coming online soon, and so we decided to berm it in to save on heating costs.  Let me tell you, this is slow, heavy, hot work.
Evening Entertainment
On a friend's recommendation, we tried a different place for karaoke, called K-HOUSE.  This seems to be a local one-off Ithaca establishment despite the rather generic name.  The bulgogi was far from generic – it was truly excellent.  The song selection was quite good, although our tastes are obscure enough that between us we failed to find a dozen songs we were hoping to sing.  One of the weirdest things about the place is that although there's a stage in the corner, the big screen for the words is right over the bar, so unless you rent one of the private rooms, you wind up standing in the middle of the room singing to the bartender, rather than facing your "audience."
Then, while at reunions, I had the great pleasure of attending Princeton University Players' production of The Fantasticks.  This show is one I did as an undergrad, but with Cameron Platt '16's creative directorial choices, it came to life in a completely new and very moving way for me. I also got to see the always hilarious improv of Quipfire!, the group that had to wait for me to leave before they started.  And, of course, arch sings.


IMBY Progress
Some miscellaneous progress notes: Believe it or not, the pallets of concrete blocks shown above had a wrapper that indicated they were made in NY.  Also, I finally ordered wood for the "covered bridge" shed I plan to build – and that was locally grown, rough cut hemlock from Robinson Lumber. When I had to buy gas for the lawnmower, I followed up the Mirabito lead (Apr 12) and found they are selling ethanol-free gas (which you might consider a good thing, or a terrible thing, but since I've followed Agway's advice and used that, I haven't had any carburetor or muffler exhaust problems).  I bought a hammer to replace one I'd lost2 and was pleased to find that Stanley Bostitch makes hammers in Mexico (could have come a lot further)… and that they have a 100 year warranty.  Wow.
Even closer to home, the literal backyard is starting to yield food, and I've had some spinach (for instance, in an omelette with backyard eggs), lettuce, chives. The cherry in the front yard is promising real production this year, perhaps even enough to rival the abundance of the one tiny "pink champagne" currant bush that just keeps on giving.  Onions, potatoes, peas, peppers, and a cucumber are all progressing well so far. I may even let some of the winter rye I planted as a cover crop keep growing and see if I can process it.
Not as Local as I'd Like
I had to refill the water softener that serves my home and 3 others on one well. We use potassium chloride (KCl) because it's better for the gardens, and as a nice side effect, I avoid having to eat bananas to prevent leg cramps.  The brand comes from the North American Salt Company, which pretty well describes them – they have mines and plants all over.  Packaging, at least, seems to happen along the Great Lakes, so there's some chance this is getting here by rail or water.  If push came to shove, though, we could switch to sodium chloride (NaCl), and for that Ithaca has its own salt mines, close enough to bring it by horse-drawn wagon.  If one worries about such things in a post-industrial world…
I also bought some anti-deer fencing and wooden stakes, which though purchased at Agway, are surely from far-flung places.  Once the trees grow up (now hopefully unencumbered by the deer) maybe I can make my own stakes…
Frustrations with Mega-Corps
When I tried to find the whereabouts of Woodstock Foods, which has a nice looking "non-GMO" campaign going, I was pretty effectively stymied.  Their web site doesn't have any physical location information on it.  A Hoover's search suggests it is actually a subsidiary of United Natural Foods (UNFI, also of Providence, RI), a $6.7 billion dollar Fortune 500 company. That doesn't inherently make them bad, but considering that the Gross State product of Rhode Island is only $45 billion and that UNFI isn't even among the top 20 employers in the state, it seems unlikely that the company is particularly "local" to there, and by extension to anywhere.  Also, I found a piece of glass in my sandwich one day, and their peanut butter seemed the most likely culprit.