My original estimate was that I could do two SIPs per day, which would mean that I could complete the approximately 45 SIPs between their scheduled delivery on Apr 3 and May 6.  Unfortunately as already mentioned, I was still working on redoing the floor until Apr 14.  That put me about 10 calendar days behind.  The first SIPs, however, started to go up faster than I had predicted. Now I'm seeing some weather-related delays.  So I thought it would be interesting to graph my progress toward the goal to see how far behind I am and get a sense of when I might catch up.
In the updated version of this chart, you can see a long horizontal "no progress" line from May 6 to May 24.  This is where I was putting up joists and subflooring for the second story.  After that, second story SIPs started going up.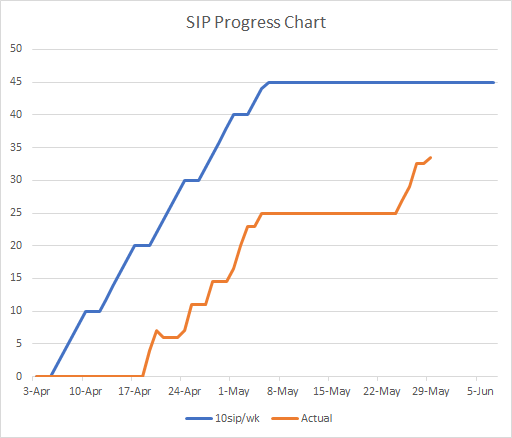 I will try to refresh this data periodically as I go.