As regular readers may already know, I have been travelling a lot this year.  My latest journey was not purely work, but a combination of two weeks of work in Ferndown, Dorset, England, plus a little more than two weeks of travel with friends through Ireland and Scotland with a few days in London at the end.  Since it's not particularly practical for me to reconstruct all of the things I may have purchased, and how local they were to wherever I was at the time, I thought I'd post a bit of a travelogue instead.  I'll skip the worky-bits.
Jun 27-28 – Bournemouth, Chalke Valley History, Jurassic Coast
Due to the (slow) machinations of my employer, my two week stay at my favorite hotel near the office was interrupted by lack of availability. As a result, I had a brief stay further south in Bournemouth, an English south coast "beach resort" town.  In a truly tiny hotel room.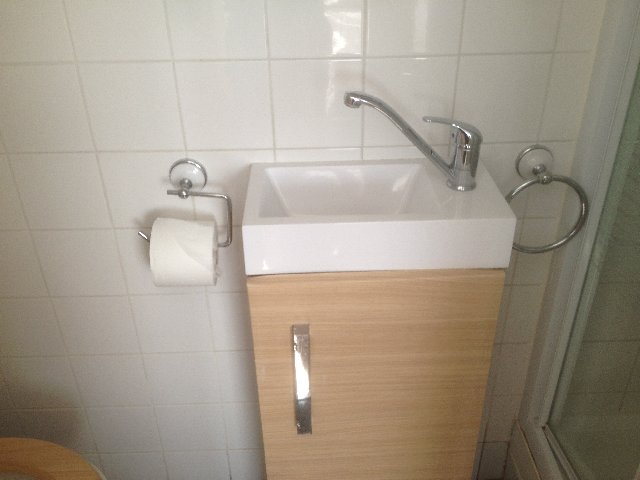 Just to give you a sense, this is how they fit the sink into the bathroom – they cut it in thirds, took the middle third with the faucet, and turned that sideways. Not really… but that's about how big this is. However,  the beach was very close – only two blocks up and about 100 feet down. It seems that most of the coast is made up of large cliffs dropping off to the beach below.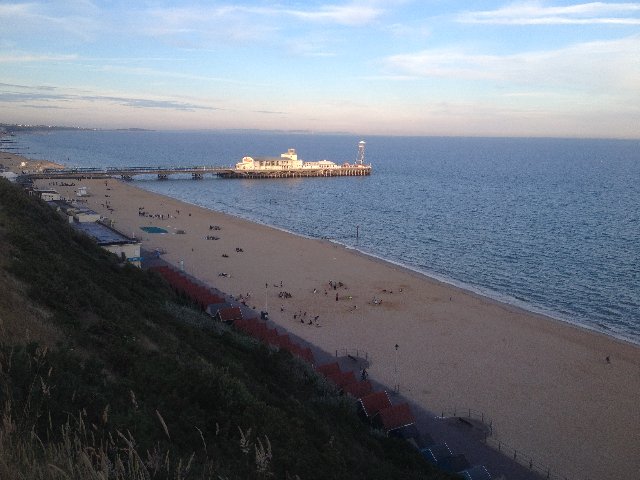 On the weekend, one of my colleagues from work kindly offered to take me to the Chalke Valley History Festival, a combination of living history (re-enactments), military history (including tank and WWII airplane demos), and talks on history ranging from prehistoric archaeology through the origins of the space shuttle program.  No easy way to sum this up in one photo, so I present here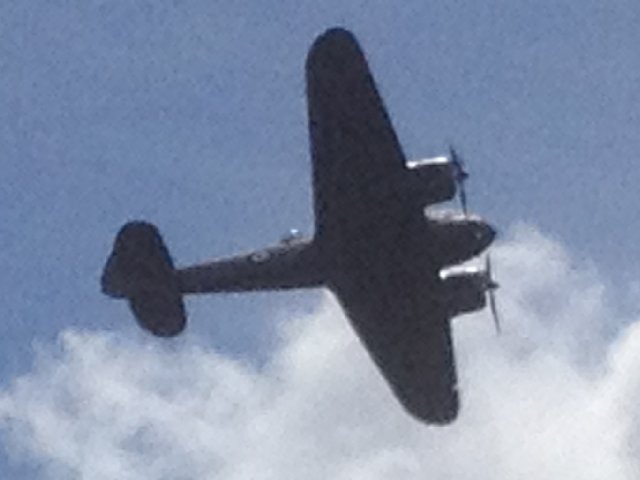 a WWII bomber,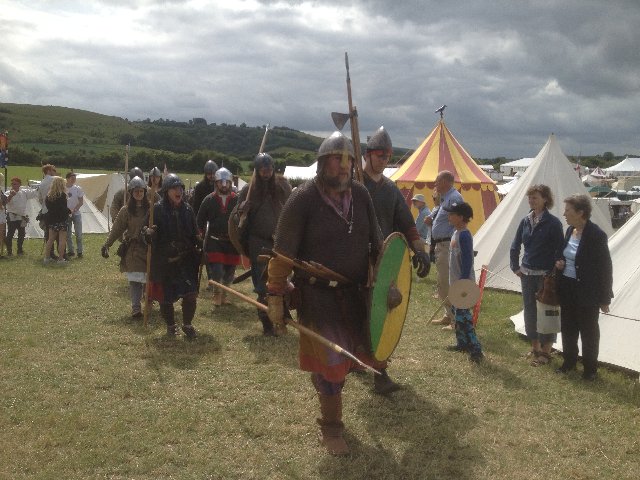 Viking invaders, and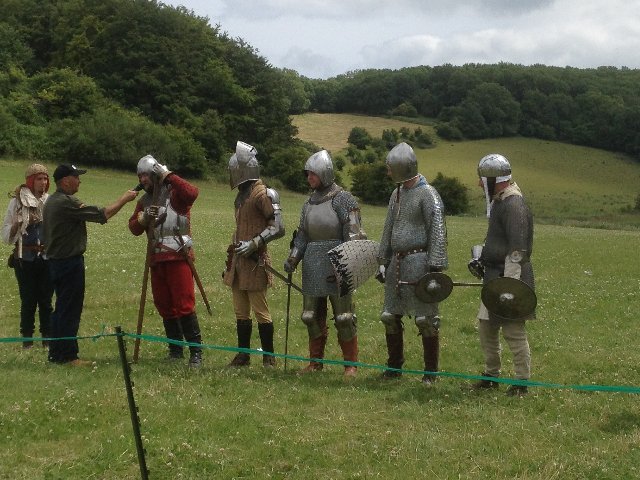 a group of knights being interviewed before they fought each other (with real swords and armor, but not real death) for the grand prize.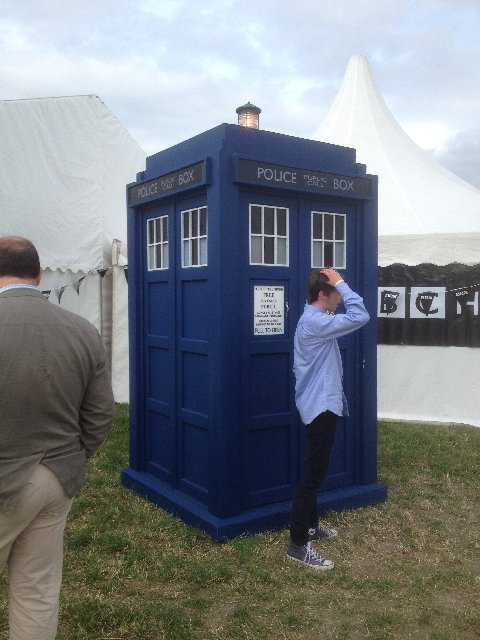 Oh, and a TARDIS, because England.
The next day, another colleague graciously took me to his house, introduced me to his family, and fed me lunch.  Then, they took me on a tour of part of England's "Jurassic Coast" – so named because the rocks that have been exposed here through tectonic activity are from the Jurassic period, and (not coincidentally) contain a lot of fossils to prove it.  You can see the strata here.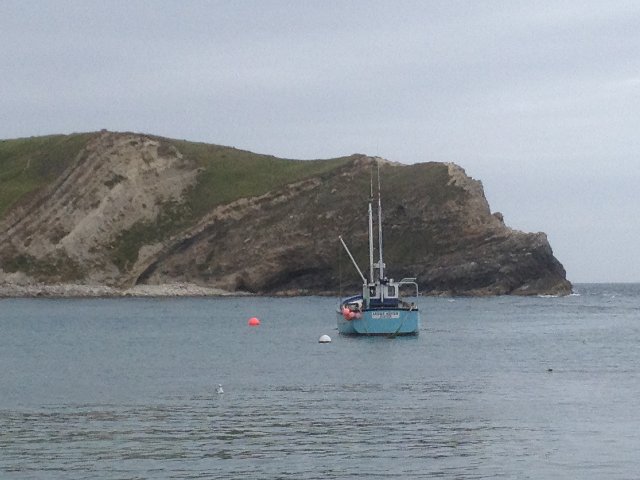 This part of England is known for its chalk soils – not exactly your typical blackboard chalk, but rather harder white stone (but still soft for stone) made from the same calciferous shell sediment. One thing that I learned, and found quite surprising, is that this kind of chalk deposit is also typically rich in flint – because flint appears where siliceous material somehow infills areas within the chalk.  Interesting, even Wikipedia claims not to know exactly how this happened.  "The exact mode of formation of flint is not yet clear…" As if 145 million years hasn't been long enough to clear this up, but we might know soon?
We walked a ways (up what my colleague's daughter affectionately calls the "hill of death") to see the Durdle Door, a huge stone arch carved by the sea.  For size reference, those are people on the beach.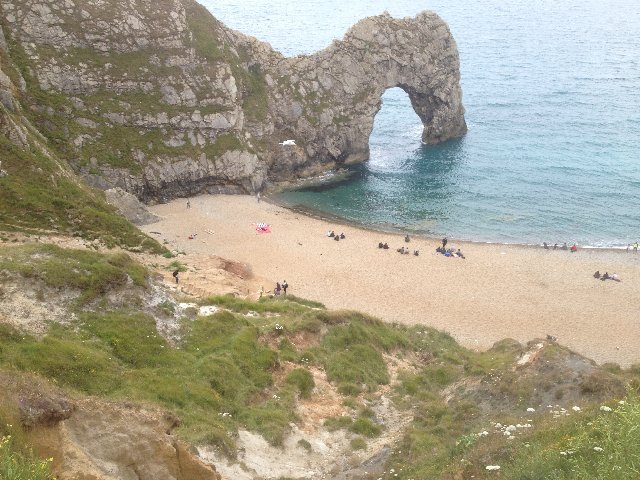 The beach here was itself interesting – a typical "pebble beach" created by the sea washing away the softer materials and leaving only stones. Not as comfortable to sleep on or as practical for the building of castles, but very pretty.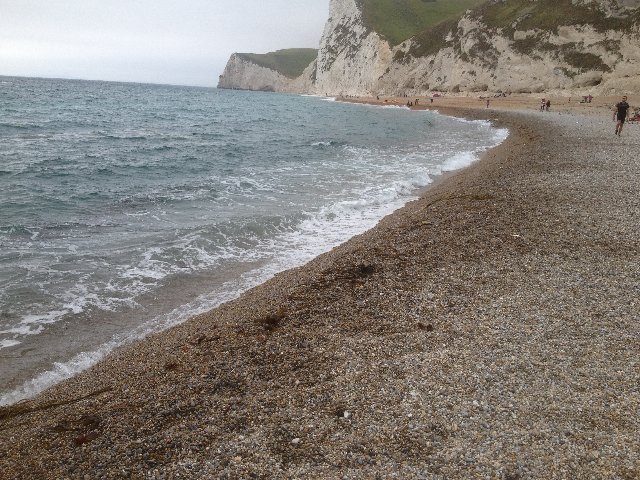 Then it was back to work (and the Kings Head Hotel) for another week. The main other exciting thing that happened was that I finally got a chance to see the changing ringing in Wimborne Minster rather than just hearing it. The church is known for having one of the finest sets of bells in the southern part of England, and every Tuesday the bell ringers practice their art. On this visit, I finally made it up into the bell tower to watch how the acoustic sausage is made.  (It does involve squeezing a lot into a small round space, and twisting and pulling things, but I think the resemblance ends there.) Suffice it to say that while I learned a lot, most of it was about the magnitude of my own ignorance.